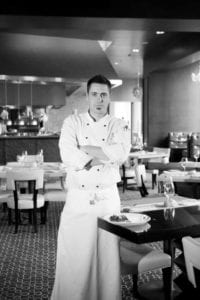 Brendon's story is one of passion – for food, travel and the world. It's easy to meet him and be envious of his journey, but this Dunedin boy has worked hard and followed his passion, grasping at every opportunity to ensure his own success.
Culinary Success
Brendon believes that we learn about others cultures through their cuisines. The two are so strongly aligned that to achieve a growth in personal culinary knowledge you must understand the cuisines and cultures of others.
He was the perfect Judge for the ENZ collaborative cooking competition in Ho Chi Minh City – June 2016.
Personal Journey
From a young child, Brendon loved working alongside his Grandparents in their hotels in the South Island of NZ. His love for hospitality and for the bakery in particular led him to Otago Polytechnic to begin his formal training in Culinary Arts. This lead to a world of travel through Australia, Thailand, China and finally to Vietnam.
Hanoi
Brendon's love for the Vietnamese is clear as we chat about their welcoming nature, friendly service, sense of humour and determination to succeed through hard work and education.
Being a Chef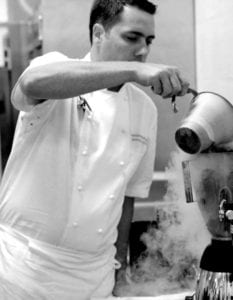 Whilst a Chef's life is not glamorous it is certainly unique and the industry has a camaraderie that is difficult to beat.
Thanks to ­­­­­­­­­­­Brendon Partridge for coming on the show. This Podcast is hosted by Vanessa Baxter, is brought to you by Podcasts NZ and World Podcasts. Get the podcast here:
• Download or Listen to Episode 8 directly
• Listen and subscibe via iTunes
• RSS Feed
 Recipe of the Week –  Scampi Risotto

Ingredients
22        pc                    Highford NZ Scampi
1          kg                    Canali rice
1          Tbspn              Tomato paste
1          stalk                 celery
1          ea                    carrot
2          ea                    white onion
2          bulbs                garlic
20        ml                     squid ink
100      gm                   cornstarch
500      ml                     white wine (NZ)
100      gm                   butter
100      gm                   grana pardano
1          bunch              tarragon (fresh)
Directions
Make a stock/court bouillon with the scampi heads and shells, tomato paste, celery, carrot, 1 onion and garlic
Cut the scampi half the scampi tales into large dice
Keep the remainder of scampi tales whole for topping the risotto
Dice the onion and garlic and sauté till soft
Add the rice and lightly sauté again
Deglaze with white wine and slowly add stock while stirring
Once the rice is cooked add the squid ink
Add in the diced scampi
Stir in butter and cheese
Plate with 1 spoon of risotto a top with 1 tail of raw scampi
Add 1 PC of corn starch dentelle and fresh tarragon
For dentelle, make a batter with corn starch and water with squid ink
In a hot pan with oil add 1 spoon of batter and cook till crispy
Take out of the pan and set aside for garnish
Equipment
Pots
Non stick pan
Wooden spoons
Recipe from the NZ showcase at Food & Hotel Asia 2016 – By Exectutive Chef Brendon Partridge.
Podcast: Play in new window | Download
Subscribe: RSS