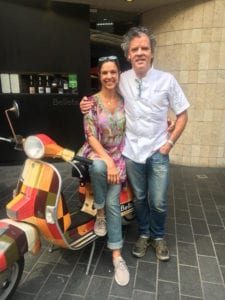 Peter Gordon is a Chef extraordinaire, Consultant Chef to AirNZ, passionate food lover, Executive Chef of The Providores in London, The Sugar Club and Bellota in Auckland, and co-founder of Cross Town Doughnuts in London.
He is a caring supporter of many charities – all of which have touched him personally. This Founding Father of fusion cuisine (as he is known in NZ) has a wonderful story telling ability that draws you in and has you wishing you could join him on his next adventure. How this man has packed so much into his days and life to date is extraordinary. That he still gives his time for fans like me is testimony to the wonderful person he is known to be.
Seriously, everyone I spoke to about him, without fail, told me how lovely he is. Yet, I was still so nervous to interview him. But I can assure you his reputation is confirmed – this man in a delight. Caring, genuine, fun, and crazy busy, Peter is desperate for more time in a year and would love to go and hang out to cook with the locals in South America. I truly hope he gets there because he so deserves to do that for himself.
Enjoy sharing a little of Peter's journey with me, here, on my podcast.
Get the podcast here:
• Download or Listen to Episode 41 directly
• Listen and subscribe via iTunes
• RSS Feed
Food, Family & Friends Podcast, hosted by Vanessa Baxter and brought to you by Podcasts NZ and World Podcasts.
Podcast: Play in new window | Download
Subscribe: RSS