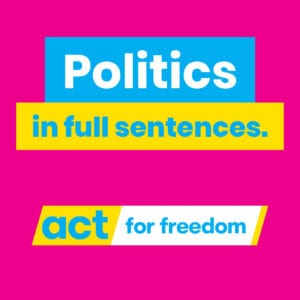 The ACT Party's weekly podcast for those who love free markets and free minds. Each episode covers off the week in politics and one big idea for a better tomorrow. Hosted by Ruwan Premathilaka with regular guests ACT Leader David Seymour and Deputy Leader Beth Houlbrooke.
Authorised by D Smith, 27 Gillies Ave, Newmarket
Listen now, or Subscribe free:
In this episode of Politics in Full Sentences, David, Brooke and Ruwan discuss why Jacinda Ardern is overseas lecturing other countries when our economy is in trouble. Also, why did Andrew Little call ACT's three strikes law "fascism", and will he give prisoners the right to vote? In contrast to this Muldoonist approach, ACT has consulted the community to generate a new firearm law.
Listen now, or Subscribe free:
ACT's Campaign for Freedom of Expression: https://freespeech.act.org.nz/
ACT New Zealand: https://www.act.org.nz/