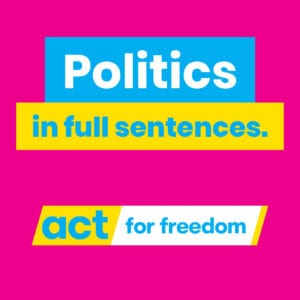 The ACT Party's weekly podcast for those who love free markets and free minds. Each episode covers off the week in politics and one big idea for a better tomorrow. Hosted by Ruwan Premathilaka with regular guests ACT Leader David Seymour and Deputy Leader Beth Houlbrooke.
Authorised by D Smith, 27 Gillies Ave, Newmarket
Listen now, or Subscribe free:
 In this episode of Politics in Full Sentences, we look back at ACT's achievements in 2019, including the passage of the End of Life Choice Bill, being the only party to hold Labour to account on free speech, rushed firearms law and the flawed Zero Carbon Bill, and helping to defeat Labour's capital gains tax and radical education proposals. 
Listen now, or Subscribe free:
ACT New Zealand
Politics in Full Sentences – Podcasts NZ
School of Practical Politics