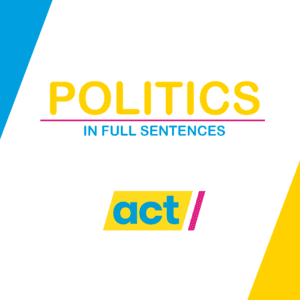 The ACT Party's weekly podcast for those who love free markets and free minds. Each episode covers off the week in politics and one big idea for a better tomorrow. Hosted by Ruwan Premathilaka with regular guests ACT Leader David Seymour and Deputy Leader Beth Houlbrooke.
Authorised by D Smith, 27 Gillies Ave, Newmarket
Listen now, or Subscribe free:
ACT Leader David Seymour and Kiwi Gun Blog's Mike Loder discuss the Government's gun 'buyback'. Has it been a failure, how many guns will go underground, and will this make us less safe? Our guests also discuss whether the Government should instead be targeting gangs and criminals. And with more firearms legislation on the horizon, Seymour and Loder consider whether a gun register can work. After two recent cases of missing firearms, we ask whether Police are equipped to carry out the gun 'buyback'. We also look at ACT's firearms policy.
Listen now, or Subscribe free:
ACT's Campaign for Freedom of Expression: https://freespeech.act.org.nz/
ACT New Zealand: https://www.act.org.nz/