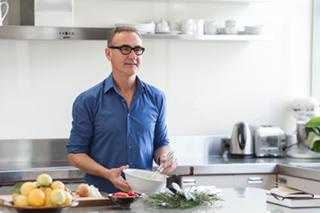 How does one even begin to describe Ray? A self taught Chef, a passionate life-long learner, a food obsessed writer, a MasterChef Judge, a Senior Lecturer in Gastronomy, he cuts quite the figure. He is well known from his National TV appearances in NZ and can be thought to be quite scary. Funny, though, off screen he is a genuine guy, who takes the time for a chat – but will let you know exactly how things sit! And I love that!
Here, we laugh about bad cooking, about the fools (me) who go on MasterChef (LOL) and the flip side of being a judge.
We hear how food has changed through time, the joys of food and family, the blessing other cultures bring to our table and how Ray believes that a healthy obsession with eating delicious home cooked food is a brilliant way to live life.
Ray shares his favourite foodie spots in New Zealand, his favourite way to while away a Sunday with friends (around the table of course) and his views on fads and diets. I totally forgot to ask him the list of either/or questions at the end of the episode – I think I was still so overwhelmed at even being in his house!
This is a podcast episode I am still blown away to have had the pleasure to have created. I know it is one you listeners will adore too.
You can find Ray McVinnie on Twitter.
He is the consulting Food Editor at Bite Mag.
He is hosting a gastronomy tour to Europe next year – for details you can email him here: raymcvinnietour@orbit.co.nz
Special thanks to Ray for being on the podcast.
Get the podcast here:
• Download or Listen to Episode 22 directly
• Listen and subscribe via iTunes
• RSS Feed
Podcast: Play in new window | Download
Subscribe: RSS