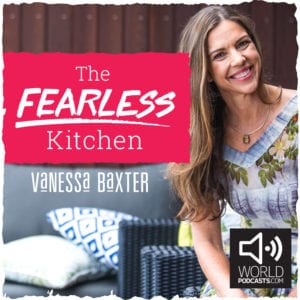 Food brings people together – it is the only language you need.
When I was in my 20s I headed to Rome without any agenda  I just wanted to experience the city and try some food. Things can head in any direction if you don't have a plan and that is exactly what happened. I love that. I love surprises and adventures which are unplanned.
Of course it is easier when you are alone and I always used to travel alone in the hope for adventure. Even now I will venture into cafes alone and love the chance to connect with someone whilst I am there – and naturally it is usually over a bowl of food! This adventure may suggest I am on the edge of sensible – and I guess I probably was but I would do it all over again.
Get the podcast here:
• Download or Listen to Episode 49 directly
• Listen and subscribe via iTunes
• RSS Feed
You can pre-order my cookbook; publishing date is July 2017.
The Fearless Kitchen Podcast is hosted by Vanessa Baxter and brought to you by Podcasts NZ and World Podcasts.
Podcast: Play in new window | Download
Subscribe: RSS