Enna is a first generation 'Chiwi', a New Zealander born Chinese. She grew up having a 'Kiwi life' and a 'home life' and the only way she could mix the two worlds was through food.
Like many Chinese families that moved here in the early 2000's, Enna's parents too owned a takeaway. While other Kiwi kids spent their evenings in after school sport, Enna has memories of wrapping spring rolls, folding wontons, flipping burgers and eating yummy takeaway food.
Enna's love for food has seen her take part in the NZ edition of My Kitchen Rules with her cousin May. They vowed to showcase as many Asian delights as they could while they were on the show and Enna has continued that journey of documenting what she eats and cooks through Instagram and her blog. In addition to this, she also works as a Marketing Manager at Ceres Organics and runs her own matcha business.
"Growing up, there was a time when I didn't really care about my culture." Like many immigrant kids, Enna struggled between wanting to fit in and pleasing parents who didn't want their kids to forget about their heritage.
It's taken growing up to understand the importance of heritage and why we all need to celebrate our individual cuisines.
On our episode we talk about:
Growing up in an Asian immigrant family, what it was like
Indian Chinese and how its so different to regular Chinese food
The landscape of Chinese food in New Zealand and how it has changed
The reality of being on a reality tv show
Importance of documenting not just recipes but also food memories.
Listen to the Podcast Here:
Follow Enna on Instagram @cookwithenna or read her blog www.mayandenna.com
Quotes from the episode:
"Now if you go down Dominion Road you will see Chinese food that's outside of the usual stuff we used to get. Gone are the fried noodles and now we have rice noodles, beef noodles, hand pulled noodles and all sorts."
"I love people to know how their food is cooked rather than them just going to a yum cha where the food is just presented to them. I feel it helps you connect more to the food you eat."
Cook Barbecue Pork with Enna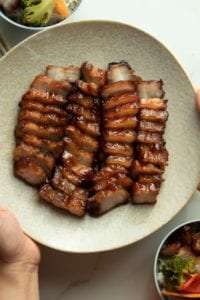 INGREDIENTS:
1 kg pork belly with skin off sliced into 3cm wide strips
Pork belly has a great fat to lean meat ratio but you can also use pork shoulder
1/2 cup soy sauce.
2 tbsp dark soy sauce
1/2 cup raw sugar
1/4 cup cooking wine
sprinkle of white pepper
1 tbsp salt is optional – add if you don't have the luxury of an overnight marinade
BASTE:
1 tbsp oyster sauce
1 tbsp honey
METHOD:
*In a bag, place pork and add marinade sauce. Squeeze out excess air and make sure marinade covers meat then leave overnight if possible or for at least 8 hours (which was what I did in this video and photo)
*When ready to cook, heat oven to 180 C on fan forced
*Take meat out and bring to room temperature so it cooks evenly
*Place pork on a rack with a drip tray, then place in middle of oven. Cook for 15 minutes
*Take tray out then baste with the oyster sauce and honey marinade and place back in oven for 10 minutes
*Take tray out again, flip meat and then baste again. Place back in oven for a further 10 minutes
* Now it's ready! Leave to rest for 5-10 minutes before serving