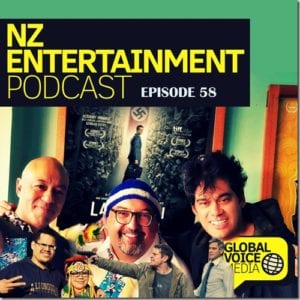 On episode 58 the two bros Wal & Jarred travel in the Jucy van to beautiful Wairoa (Hawkes Bay) with guests Melodie McKiver and Craig Commanda who are Anishinaabe from First Nations Ontario who have just finished visiting the Wairoa Maori Film Festival to talk about their culture and films. We also review new movies Labyrinth of Lies and Money Monster.
To download use any good podcast app (IOS or Android) and search for NZ Entertainment Podcast then subscribe so you get the newest episode delivered – or click to listen here or subscribe via ITunes below:
You can keep current with our latest NZ Entertainment Podcast updates via Twitter @NZ_Ent, theNZEntertainmentPodcast.com website and Facebook page.
This episode hosted by Wal Reid & Jarred Tito, Paul Spain is the executive producer. The NZ Entertainment Podcast is published by Global Voice Media – the home of NZ's favourite podcasts.
Podcast: Play in new window | Download
Subscribe: RSS