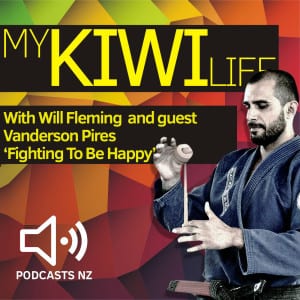 Forget countries, borders and flags – can we not just be Human!? Just one of the many mind bending perspectives that My Kiwi Life guest, Vanderson Pires has on life, unconditional love, human connection and the truth to being happy.
This podcast is one of those episodes that you put in the 'game changer' category. Will Fleming and Vanderson Pires from The Combat Room sit down in the Podcasts New Zealand Studio for a conversation about getting back to basics with simple techniques we can all use right now to find ways to be happy in the zoo we call life.
This episode is brought to you by Podcasts New Zealand.
Get the My Kiwi Life podcast here:

Podcast: Play in new window | Download
Subscribe: RSS