Last Sunday a remarkable thing happened. Along with 2000 of my best friends I rode over the Auckland harbour bridge on my bicycle. I was surpirsed how gentle the gradient was and how pitted the tar-seal surface is. The views are some of the best in Auckland. The really surprising thing though is that were doing it all. The last time someone rode over the bridge is 12 years ago – also a protest at the lack of cycling access to the shore. 12 years later we still have nothing on offer excpet crowded ferries. The situation so riled my next guests that they decided to act, creating – along with BikeAuckland – the Reclaimthelane rally and  protest. I'm joined by Mary-Margaret Slack, a comms manager at BikeAuckland and her dad, David Slack, writer and inveterate cycling enthusiast.
Hear the Podcast Here:
See more about LiberateTheLane here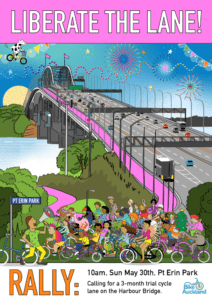 See the lovely picture of Mary-Margaret at the 2009 protest in David's superb article here
Check out here this amazing climb-down from anti-cycling objectors in Vancouver when a bike lane was introduced to their harbour bridge. They now want two!