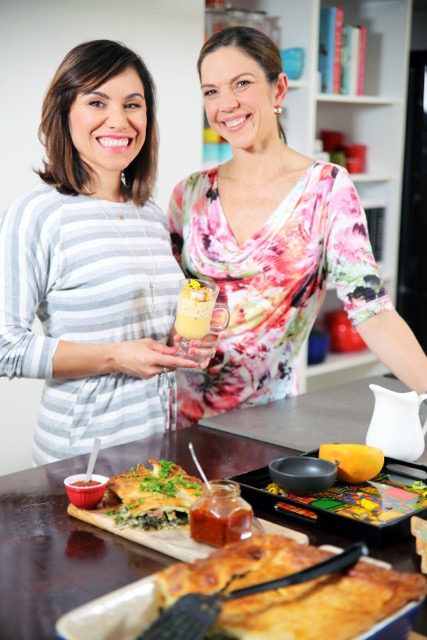 Stacey Morrison is a well known voice as she is the host of The Hits Drive Time each weekday afternoon with Flynny. We met on the set of Whānau Living where Stacey hosts a gorgeous bilingual home show with an emphasis on tips and techniques for enjoying your home from garden to kitchen and beyond.
I had no idea on first meeting that she was one and the same Stacey that I often listened to in the car whilst waiting to pick up my boys from school. Stacey is busy with TV and Radio and writing for magazines and hosting events. Yet, her priority is in raising her three lovely children with her husband, Scotty, who is also in media as a broadcaster and author.
Stacey is passionate about family – 'whanau' and the language, culture and food that ties families and friends together. She is all about keeping things natural and real – whether its in the form of fresh, healthy family meals or keeping Maori an integral part of their learning and loving of who they are at home. Stacey is genuine and a delight to chat with.
In spite of a crazy schedule she didn't hesitate to make time for this interview and indeed to encourage my own growth through the birth of this podcast. Listeners are in for a true Kiwi treat with a beautiful soul who shares her love of her own wonderful family and all the families and friends in this great country of New Zealand.
Get the podcast here:
• Download or Listen to Episode 16 directly
• Listen and subscribe via iTunes
• RSS Feed
More about Stacey's Whānau Living tv series can be found here, you can also tune in to her co-hosting The Hits Drive show or follow her on Twitter!
View Vanessa and Stacey cooking together on Whānau Living tv – moreish and approachable recipes such as 'Cheese and Bacon Spinach Pie', and 'Mango Pudding with Coconut, Pineapple and Tapioca'.
Thank you for listening to Food, Family & Friends Podcast, hosted by Vanessa Baxter and brought to you by Podcasts NZ and World Podcasts.
Podcast: Play in new window | Download
Subscribe: RSS