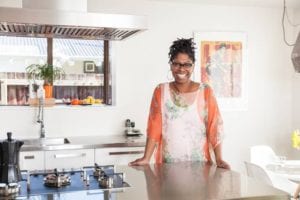 Listen as the authentic and passionate Jax shares her love for food. From very humble beginnings, to realizing her passion and turning her determination to what she loved the most – cooking and food.
Jax grew up helping her Mum in the kitchen and weaves her stories together to paint a picture of herself on stools to reach benches, with spoons ready to stir Saturday soups and a garden of vegetables for the family to live off. Memories of the strong bond with her Father in Law – a man who wasn't to see her final successes in the food industry – but who was of paramount importance in her reaching for her dreams.
Today, Jax is an author and a creator. She is producing a Youtube series which will be launching later in 2016. Her books fly off the shelves as her fans love her bold fabulous recipes which are fun to recreate in the home.
This podcast is brought to you by Podcasts NZ and World Podcasts.
Get the podcast here:
• Download or Listen to Episode 2 directly
• Listen and subscibe via iTunes
• RSS Feed
Recipe of the Week:
Spicy Coconut Scallops on a warm salad of Asparagus, Watercress & Mint
Prep Time:   10 min        Cook Time :     20 min        Serves :  4
Spicy and Sweet Piquant Pepper Paste
150 g Peppadew Piquant Peppers, drained
½ tsp black pepper, ground
2 cloves garlic, chopped
2 tbsp fresh thyme leaves
2 tbsp fresh parsley leaves
4 spring onions, chopped
2 tbsp fresh ginger, grated
1 lime, zest
2 tsp sesame oil
good pinch salt
Pop all ingredients in a food processor and blend or whizz to a smooth paste with a hand blender.
12 Asparagus spears
Peanut or Olive oil
Knob of butter
12 Scallops
125ml Piquant Pepper Paste
200ml Coconut Cream
200g Watercress (or Rocket)
100g Mint leaves, thinly sliced
1 lime (juice only)
Salt and freshly ground black pepper
In a frying pan, over a medium heat, pop your oil and butter and pan fry your asparagus for 3 – 5 minutes on all sides, season and remove from the pan and set aside.  Keep warm.
Take your scallops and using some kitchen paper, carefully pat dry all over.
In the same pan, add a little more oil, turn up the heat, when cooking scallops, you want the pan to be nice and hot, so you get that lovely sizzle.  Cook your scallops in batches (if necessary, as you don't want to crowd the pan) for 3 minutes each side.
For the perfect scallop, you want to caramalise the outside, whilst the inside is just warm and translucent.  Remove from the pan and set aside – keep warm.
Reduce the heat and place your paste in the warm oil, cook, stirring for 3 – 5 minutes, until nice and fragrant, then pour in the coconut cream.  Cook for a further 2 minutes.
Take your sauce and season with salt, pepper and juice of a lime.
Serve : Slice your asparagus, toss with the watercress and mint.  Place on the plate. Lay your scallops on top and drizzle with the amazing coconut sauce.
Podcast: Play in new window | Download
Subscribe: RSS