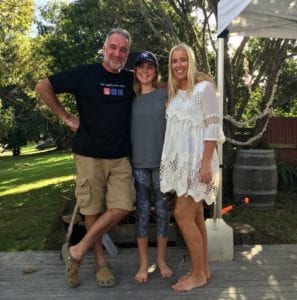 This extraordinary episode shares my journey into the home of strangers for an Easter meal on Waiheke Island near Auckland, New Zealand. Not only did I have the privilege of bringing our two families together to enjoy the experience of a collaborative cooking experience around their wood fired pizza oven, but I also had the chance to interview three generations of this beautiful family group.
The story begins with 13 year old Sophie who was moved by "that sugar film" to change her life and from that moment to become completely 'sugar-free'. Her simple premise is that this changed her as a person and the support from her family and the love surrounding her is paramount.
Emma shares her views of the changes to their lives and how it has built a respect for food within their home. She supports Sophie fully and has generated a calm acceptance for her daughter's choices, without imposing it completely on the rest of the family. Her care and love are evident in her interview.
Don, as Grandad shares his own love for food and his passion for having his family surround him and encompasses the vision of Food Family and Friends.
This podcast is brought to you by Podcasts NZ and World Podcasts.
Get the podcast here:
• Download or Listen to Episode 3 directly
• Listen and subscibe via iTunes
• RSS Feed
Recipe of the Week
Soph's Recipe for Brunch – Cacao Pancakes (very versatile; you can make as breakfast or make smaller size and freeze them for lunchbox snack).
1 Banana
1 tbsp Cacao nibs
150 ml Almond milk (unsweetened)
3/4 cup Oats
1 Egg
Mash banana, add egg and stir. Add almond milk and oats
Blend, stir together
Peanut butter or almond butter – mix small amount water for sauce topping and add in your favourite fruit/berries
Pour into a hot pan (use some coconut oil) and cook on each side.
Podcast: Play in new window | Download
Subscribe: RSS