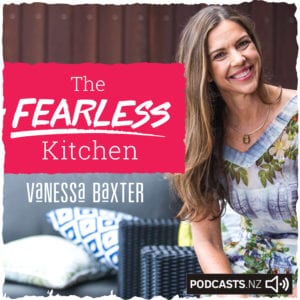 Be prepared for a little mess, but reap the rewards when you get your kids inspired in the kitchen.  Today I share my passion and tips and ideas for you to share with the kids in your life – whether they are nieces and nephews, grandkids, students or your own.
Cooking is a life skill and brings with it so much more.  I am truly passionate that we can get our families into the kitchen then we will grow deeper connections with them and with the community around us.  Food is life, life should be fun and engaging and what better place to start than in the kitchen!
Get the Podcast here:

• Listen and subscribe via iTunes
• RSS Feed
You can pre-order my cookbook; publishing date is July 2017.
The Fearless Kitchen Podcast is hosted by Vanessa Baxter and brought to you by Podcasts NZ and World Podcasts.