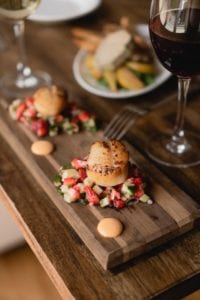 Inspiration for First Table sparked when Mat Weir discovered a new approach to dining that he'd never come across before. Tucked away in Queenstown, New Zealand, was a small French restaurant offering 50% off their first table of the night. By discounting the 'first table' the restaurant could build a great atmosphere from the start of service which in turn attracted more customers.
For Mat and his family, having the discount meant they could sample daring local delicacies and a good bottle of wine, without breaking the bank.
Already a tech entrepreneur, Mat saw an opportunity to build an online marketplace to solve the problem of slow starts to evenings, at scale.
In September 2014 he launched First Table with ten restaurants in Queenstown. He then set off in a relocation campervan, driving from Christchurch to Auckland pitching to restaurants along the way. By day, he'd meet with restaurant owners, and by night, he'd drive to the next city. Fast-forward to today, restaurants and diners are using First Table in over 50 cities around the globe.
On our episode we talk about:
The First Table business model and why it's a win-win
Getting those first customers and doing whatever it takes
Running a startup in Queenstown, what's that like
What it really took to launch into international markets
Challenges of scaling continuously
Listen to the Podcast Here:
Quotes from the episode:
"Empty tables don't make money. If we can put people into those tables that's incremental revenue for the restaurant. People also don't like going into an empty restaurant. So if you can fill those empty tables at the beginning of the night it get's everyone's night off to a great start!"
"Getting those first customers was tricky. As a tech entrepreneur I had spent most of my life sitting behind a computer not talking to anyone. At first, I tried getting others to do the selling but that didn't work. I realized I was the one that knew the most about First Table and what we were trying to achieve so I had to suck it up and do the talking myself. It was hard to do but restaurants were really interested in this new approach."