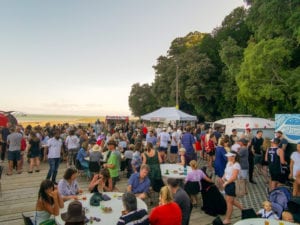 Marc Hershman trained to be a chef at a really young age. He left the world of hospitality for the corporate life only to start a food truck twenty years on. His food truck Mama Tahina was featured in Lonely Planet's, Around the World in Eighty Food Trucks. Today, he is an Insurance Broker by day and the Founder of Love Street Food by day and night.
Love Street Food dream and bring to life some of the best food events in Auckland. Previously they have organized the Mediterranean Night Market and Christmas markets at Victoria Park. Most recently they hosted the Brunch at French Bay. As if that's not enough, Love Street Food helps you curate and book some of the best food trucks for your parties, weddings and other gatherings. It would therefore be fair to say that Marc knows his street food.
On this episode we specifically talk about:
Is owning a food truck as glamorous as the movie make it out to be?
The early struggles involved in getting a food truck on the road.
Would you book a food truck for your wedding?
The role of street food in creating the culture of a city.
If you have been dreaming of owning a food truck or if you're like me and attend every single food festival out there (or atleast as many as you can), you're going to love this episode!
Listen to the Podcast Here:
Quotes from the episode:
"My magical sofa is an old sofa in our home where I've sat and come up with many business ideas. Once upon a time I was on my magical sofa and I turned to my wife and said hey, I think we should do a food truck. And then I said, I think I found a truck."
"The food industry is a really warm and welcome industry. Partly because it is so hard to survive here."
"People enjoy direction. Don't try to be all things to all people. Three to five dishes are all you should aim for when it comes to a food truck menu."
Follow the Love Street Food journey or hop on their website to book a great food truck for your next event:  journey or book them for your next party: https://www.lovestreetfood.co.nz/