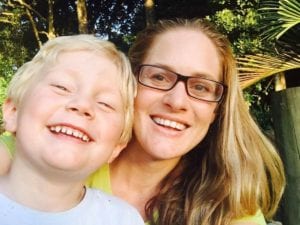 Claire Deeks is a mum and passionate real food advocate for children and families based in Auckland, New Zealand. She's recently launched a petition against the Health Star Rating System gathering several thousand signatures in a few weeks. Claire's background is over 10 years practising as a lawyer and registered patent attorney working in Auckland and London specialising in trade mark, copyright and misrepresentation in the music and movie industries (representing a who's who of international clients including Warners, Sony, Disney, Nike, Versace, Gucci and more).
In late 2014 after what she calls a real "lightbulb moment", Claire started an online food blog for families: Dom's Kitchen. The blog has garnered a significant following (over 25,000 social media followers) and is named after Claire's son Dominic who is the inspiration behind her own journey to real food.
In 2016 Claire's embarking on her mission to create a kid's real food revolution full time. She will be going on the road in a speaking tour around NZ and Australia (The Mothers On A Mission Tour 2016) to inspire, educate and help support parents feed their children more real food.
Claire's Blog can be found at
Dom's Kitchen
and has all info on the upcoming tour events and link to sign the petition against the Heath Star Rating.
This Podcast is hosted by Vanessa Baxter is brought to you by Podcasts NZ and World Podcasts.
Get the podcast here:
• Download or Listen to Episode 9 directly
• Listen and subscribe via iTunes
• RSS Feed
Recipe of the Week – Gummies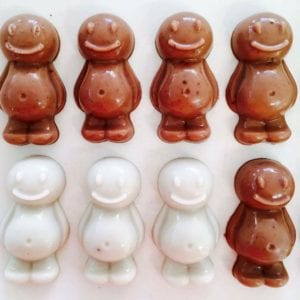 Ingredients:
270mls coconut milk (we use Ayam brand – this is one can)
2 Tbsp maple syrup
1 tsp vanilla extract
2 1/2 Tbsp gelatin (we use Great Lakes Gelatin – red box)
1 Tbsp raw cacao (or cocoa)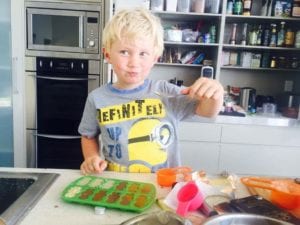 What To Do:
Make room in your fridge for a tray of gummies and place your molds on a tray. (This makes it much easier but is not essential.)
Combine the milk, syrup, cacao and vanilla in a pot and stir.
Sprinkle gelatin over the mixture and immediately whisk to combine well.
Heat over low heat for approximately 5 minutes taking care not to overheat or boil and stirring continuously until the liquid is smooth. (It should be only a luke warm temperature.)
Remove from heat allow to cool slightly and then add to silicon molds.
Place the tray with molds on it in the fridge for 30 minutes or until gummies are set firmly.
Podcast: Play in new window | Download
Subscribe: RSS