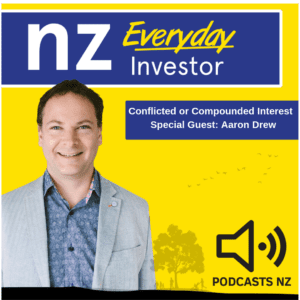 When seeking financial advice? What should you know before you start shopping around for an adviser to work with?
It comes down firstly to you: What's your expectation/what outcome would you like to get after an interaction with a financial adviser? Are you keen to get your 'hands dirty' also, or do you want to allow that adviser all or some of the decision making in relation to your portfolio?
Some of us will never use an adviser and that's totally fine. Many, however, who do use and pay (either directly or indirectly) for this are actually paying for something that may not make a meaningful difference on the return on a portfolio. Others, more likely the newbie or self-directed investor, save on costs but are they missing out on something important? This borders on a discussion around active vs passive investing: If you'd like to get into this a bit more check out episode 9 with Sam Stubbs (passive investing) or episode 25 with Mike Taylor (active investing).
If using a financial adviser and an investment adviser specifically, is something you're going to do, then it pays to do a bit of groundwork first in order to understand what makes them tick. Vertically aligned business models, often seen with the main banks, is also an arena where there could be conflicts of interest, instead of compounding returns.
On the topic of adviser remuneration, most advisers will charge a fee for their service but how this fee is calculated varies greatly. Sometimes there may even be revenue coming from both sides (the 'supplier' and the consumer). Other types of advisers will receive a commission from the supplier, specifically mortgage and insurance advisers.
Essential reading for this episode: https://www.myfiduciary.com/fiduciary-perspectives.html
If you've decided to get some advice around being a bit more active in your investment decisions, you're likely going to pay a fee for it somehow – whether that be to an investment adviser, or to a fund manager, so how can you discern what is fair and reasonable for this service?
Aaron Drew joins us today for a broad discussion on this theme of 'conflict of interest' .
Aaron is an experienced investment professional and consultant.
He is a Principal at MyFiduciary and Fi360 Pacific and provides investment support to a range of Adviser groups and Investors.
Aaron serves as a Trustee for the Fairground Foundation and the Investment Committees for Foundation North, Metis Research Group and Taupo Moana Investments. He is also an Associate of the NZIER and leads the Sovereign Funds research program at the New Zealand Institute of Pacific Research.
Aaron is an economist and his experience includes seven years for the New Zealand Superannuation Fund where he was a member of its Investment Committee and helped establish its passive Reference Portfolio governance benchmark, dynamic asset allocation strategy, and thematic investment strategies. He's worked as a principal economist for the NZIER, at the OECD in Paris, as a consultant for the IMF. In addition to that, he's also worked at the Reserve Bank of New Zealand where he led the research division as was a member of the Bank's Monetary Policy Committee.
This is going to be an interesting discussion and a must listen if you want to learn more about potential conflicts of interests in the world of investing. Note that this is a two-part recording, be sure to subscribe!
Learn more about Aaron Drew and myFiduciary here
NZ Everyday Investor Podcast:
https://www.facebook.com/NZ-Everyday-Investor-338969376637717/
We're keeping it real on NZ Everyday investor – we're not journalists and this isn't an interview – it's a discussion, hosted by someone who's genuinely into this sort of thing. If you like what we do, remember to subscribe to our show and share it with others – we'd really appreciate it! Do you know what else would make us rather pleased with ourselves? Write a review on facebook too!
Where to find Darcy Ungaro:
Ungaro &Co (registered) financial advisers https://www.ungaro.co.nz
Facebook: https://www.facebook.com/UFinServ/?ref=bookmarks
Instagram: https://www.instagram.com/ungaro.co.nz/
Help support the mission of our show on Patreon by contributing here: NZ Everyday Investor is on a mission to increase financial literacy and make investing more accessible for the everyday person!