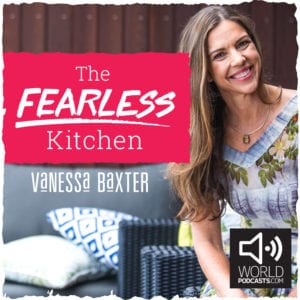 This is my first solo episode where you will hear just from me without an interview attached. I have chosen to add some of this stories into the podcast to share my own story and the challenges I also face as a passionate lover of food, as a lover of motivating others – and how I try to pull this together to successfully make it my life.
This episode shares the story of how The Fearless Kitchen actually came to be the name I am using as both the title of my book and of this podcast. My favourite spot is my kitchen, and it is by far the worst looking room in our home. However, it is the place I spend the most time, hang out with my kids the most, experiment with recipes and create food for my family. It doesn't mean that cooking is all I do – I am fearless in other ways too – but this title seemed apt in so many ways.
To find out more head to www.vanessabaxter.co.nz
You can pre-order my cookbook too at a special price – publishing date is July 2017.
Get the podcast here:
• Download or Listen to Episode 45 directly
• Listen and subscribe via iTunes
• RSS Feed
The Fearless Kitchen Podcast is hosted by Vanessa Baxter and brought to you by Podcasts NZ and World Podcasts.
Podcast: Play in new window | Download
Subscribe: RSS