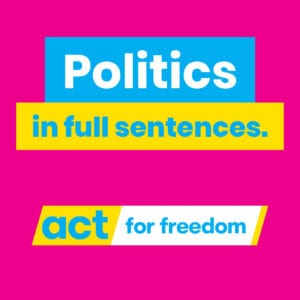 The ACT Party's weekly podcast for those who love free markets and free minds. Each episode covers off the week in politics and one big idea for a better tomorrow. Hosted by Ruwan Premathilaka with regular guests ACT Leader David Seymour and Deputy Leader Beth Houlbrooke.
Authorised by D Smith, 27 Gillies Ave, Newmarket
Listen now, or Subscribe free:
This week on Politics in Full Sentences, we talk to ACT Leader David Seymour and Deputy Beth Houlbrooke. What does the NZ First scandal mean for its political future? Will changes to rental laws do anything to help fix the housing crisis? And are Police now admitting that the gun 'buy-back' has been a complete failure?
Listen now, or Subscribe free:
ACT New Zealand
Politics in Full Sentences – Podcasts NZ
School of Practical Politics