Since 2018, The Kitchen Project has helped Auckland food entrepreneurs take their business to the next level. We chat with Project Manager Sreshta Sridhar and current cohort member, Te Reina Norton about the Kitchen Project and the tangible benefits an incubator such as theirs provides not only to entrepreneurs but also the wider community.  Inspired by La Cocina in San Francisco – one of the most successful kitchen incubators in the United States – The Kitchen Project is a partnership set up by Auckland's urban regeneration agency, Panuku Development Auckland and Auckland Tourism, Events and Economic Development (ATEED) with support from Healthy Families South Auckland and Healthy Families Waitakere.
Essentially, it is a part-time 26-week programme that covers everything from regulations, food safety and business planning, to finance, branding and marketing. What makes the program really stand out is the access it provides to its cohort and alumni to dedicated commercial kitchens thereby addressing one of the biggest hurdle food entrepreneurs face in their early days. Another unique aspect about the program is its commitment to celebrating the diversity of Auckland's vibrant community.
Many of their alumni include business owners that have chosen to make New Zealand their home and don't have the built-in support networks that come with living in the same place for decades. The Kitchen Project holds their hands and providers not only strategic mentorship but practical guidance and access to their valuable networks. Carmel's Israeli Street Food, Sweet and Me, The Red Hot Kiwi Company and Banu's Spices are just a few of their alumni that are today successfully selling their delicious food to Aucklanders thanks to The Kitchen Project
Joining us on this episode is TeReina Norton, Founder of The Little Plant Pantry who is also an alumnus of The Kitchen Project. Using the training and mentorship of program, Te Reina now makes and delivers delicious plant-based meals and treats to homes all over Auckland. In her own words, "In 25 weeks I have gone from being a stay at home mom who likes to cook and has an idea to being a business owner".
On our episode we talk about:
Why is The Kitchen Project focused on West and South Auckland communities?
How a business incubator can help celebrate the diversity of Auckland's communities
Could a program like this be replicated across NZ?
Challenges of growing a business when you don't have a support network
Addressing one of the biggest barrier to entry, access to a commercial kitchen
Listen to the Podcast Here:
The Kitchen Project is currently recruiting for its next cohort: www.thekitchenproject.co.nz
To order some treats from The Little Plant Pantry follow TeReina Norton on Facebook.
Quotes from the episode:
 "When we looked at West and South Auckland, we realized that the local foodscape is not representative of the people that live there. These are areas dominated by fast food joints and we wanted to change that."
"A lot of people have found The Kitchen Project when they google 'Commercial Kitchens Auckland Cheap'. It's a big barrier to entry for a lot of people. You may be able to operate from a home kitchen but you can rarely scale."
"Having a network that holds you accountable is so important. When you're faced with the day when you complete the initial checklist and you wonder what do I do next you have someone you can talk to who says right, do this next. It really helps."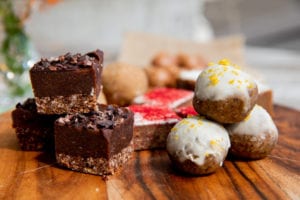 Recipe: Coconut cashew fudge by The Little Plant Pantry
Dates 150g
Coconut oil 25g
Brown rice malt syrup  90g
Cashew butter 200g
Coconut cream 110g
Cacao butter 50g
Coconut flour 60g
Maple syrup 30g
Gently melt coconut oil and cacao butter in saucepan. Add in brown rice malt syrup, coconut cream and maple. Add in dates to soften. Transfer to food processor and add in cashew butter and coconut flour and blitz until smooth and well combined.
Pour into lined pan and refrigerate overnight.
Slice and enjoy.
Slice will keep for a week in the fridge or longer in the freezer.