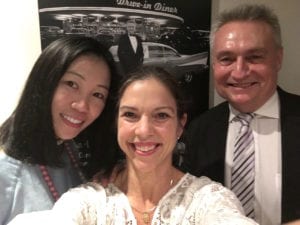 Living in Ho Chi Minh City – changes, love, life and Food
With openness and refreshing honesty, John and Cass share stories of their love for each other, for the city they live in, for their homes and extended family and for the countries they love to visit.
Saigon
Living and working in Saigon, John and Cass discuss the changes they have witnessed over the past decade. The growth of the food scene around them and the value this brings for the locals, for the economy and for the future.
Food, Family and Love
John and Cass share their passion for each other and for each other's journeys and homes.  Australian and Kiwi combined – with a twist to the story along the way!
Inspiration and Determination
As stories unfold, Cass shares her childhood and the shaping of her life as a 'boat refugee' from war time to the woman she has become today.  The strength of her Mother and family is paramount in this inspirational tale – one which cant help but to inspire and remind us to face life with a determination to make the most of each and every day, moment and opportunity.
A positive and uplifting episode with two amazing, successful and genuine people who you will be sure to love by the end of the episode!
Thanks to John and Cass for coming on the show.
John is General Manager of The Caravelle Hotel in Ho Chi Minh City, Vietnam.
Twitter: https://twitter.com/caravellesaigon
FB: https://www.facebook.com/caravellesaigon
This Podcast is hosted by Vanessa Baxter is brought to you by Podcasts NZ and World Podcasts.
Get the podcast here:
• Download or Listen to Episode 7 directly
• Listen and subscibe via iTunes
• RSS Feed
Podcast: Play in new window | Download
Subscribe: RSS