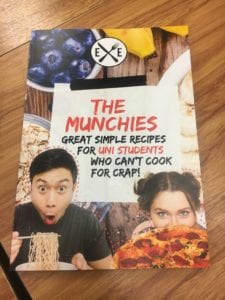 Easy Eats is the idea from a wonderful young enterprise group at Kings college in Auckland. They created their business around the idea that Uni Students cannot cook for crap. The cookbook they have released is fun, friendly and transportable with recipes created by famous figures and students themselves.
I interview the group in a classroom at Kings just after they win a Dragons Den award. Inspiring and engaging – join our conversation here.
Get the Podcast Here:

• Listen and subscribe via iTunes
• RSS Feed
You can pre-order my cookbook; publishing this month!
The Fearless Kitchen Podcast is hosted by Vanessa Baxter and brought to you by Podcasts NZ and World Podcasts.