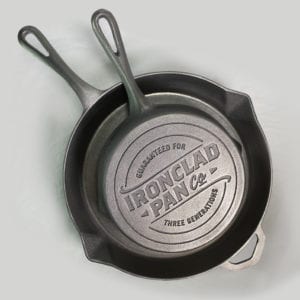 Joe Carter and Kate Slavin have both always been intrigued by culture and wanted to be a part of creating something that stood the test of time. In an era of disposable stuff, the team wanted to create a product that would last for generations. They settled on cast iron skillets, which have been around since the Iron Age. Also, both their families have had grannies that cooked in them and they've seen how cookware that lasts for years has the power to create a connection through time.
In 2019, they started The Ironclad Pan Company. All their cookware is 100% New Zealand made and hand-poured to order. They are also the only company in NZ that manufactures cast iron pans as it is a old school process and there are not many foundries in NZ that are willing (or have the ability) to make cookware. What's great is that their pans come with a unique guarantee that lasts a 100-years and you don't need to worry about taking care of the receipt because their guarantee is forged into the pan itself.
The Ironclad Pan Company's pans are  a versatile piece of cookware  and have been endorsed by the likes of The Topp Twins, Peter Gordon and many other chefs.
On our episode we talk about:
Importance of creating something meaningful that stands the test of time
Why everyone needs some cast iron cookware in their kitchen
How does a 100-year product guarantee work when you are a startup
Cooking and caring for your cast iron cookware
Can cookware be an heirloom you inherit?
Follow The Ironclad Pan Company story on www.ironcladpan.com or on Instagram @ironcladpan
Listen to the Podcast Here: