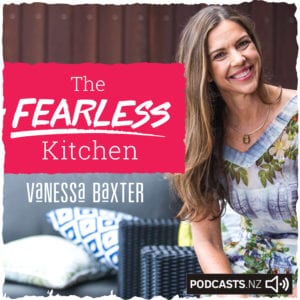 Christy Harrison, MPH, RD, CDN is a registered dietitian nutritionist and certified intuitive eating counselor based in Brooklyn, NY. She offers online intuitive eating courses and private intuitive eating coaching to help people make peace with food and their bodies. Since 2013 Christy has hosted Food Psych, a podcast exploring people's relationships with food and paths to body acceptance.
Christy began her career as a journalist in 2003, and has written for and edited major publications including Gourmet, The Food Network, Refinery29, Slate, BuzzFeed, Modernist Cuisine, AllRecipes, and many others. As an expert on nutrition and people's relationships with food, she has been quoted in top media outlets including Refinery29, Health, Men's Fitness, Bon Appetit, The Observer, and more.
Together we talk about the foodie world we live in and how Christy came to offer the courses she does today.  We delve into discussions on the role and effect that fads and 'real food' style movements have had on groups of people and on individuals and families.  Christy explains intuitive eating and living, and how she thrives on empowering others through her courses and her podcasting, to move away from a dieting and restrictive thought process to a more mindful way of dealing with food.  We share insight into how children can be brought up to simply build on their innate intuitive nature and to be at peace with food and mealtimes, rather than live in an environment that is becoming increasingly obsessive and concerning around food.
I totally loved this chat with Christy.  We literally met over this discussion and yet I felt as if I had known her for years.  I am so sure you will feel the same way when you share in our discussion.  I am thrilled to be able to bring this episode to you.
Get the Podcast Here:

• Listen and subscribe via iTunes
• RSS Feed
You can pre-order my cookbook; publishing this month!
The Fearless Kitchen Podcast is hosted by Vanessa Baxter and brought to you by Podcasts NZ and World Podcasts.
Check out Christy's work at christyharrison.com, and and get her free guide, 7 Simple Strategies for Finding Peace and Freedom with Food.
Connect with Christy here:
Twitter: http://twitter.com/chr1styharrison
Facebook: https://www.facebook.com/christyharrisonnutrition
Instagram: https://www.instagram.com/chr1styharrison/
iTunes: https://itunes.apple.com/us/podcast/food-psych/id700512884