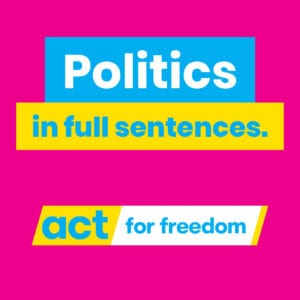 The ACT Party's weekly podcast for those who love free markets and free minds. Each episode covers off the week in politics and one big idea for a better tomorrow. Hosted by Ruwan Premathilaka with regular guests ACT Leader David Seymour and Deputy Leader Beth Houlbrooke.
Authorised by D Smith, 27 Gillies Ave, Newmarket
Listen now, or Subscribe free:
This week in Politics in Full Sentences, businessman, entrepreneur and humanitarian Kenyon Clarke talks about business, housing, and succeeding against tough odds. He recovered from the Great Financial Crisis by building a world class company to tackle the housing crisis. Kenyon shares how he came through those tough times, and what is needed to get more New Zealanders into homes now. He also opens up on why he supports the End of Life Choice Bill, and others should too. Added in is all the usual reviews of the political week; the Rugby World Cup licensing hours, and why David Seymour doesn't get invited to the Police Minister's birthday.
Listen now, or Subscribe free:
ACT's Campaign for Freedom of Expression: https://freespeech.act.org.nz/
ACT New Zealand: https://www.act.org.nz/
School of Practical Politics: https://www.act.org.nz/school_of_practical_politics