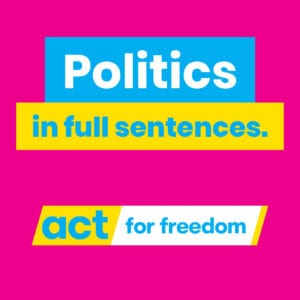 The ACT Party's weekly podcast for those who love free markets and free minds. Each episode covers off the week in politics and one big idea for a better tomorrow. Hosted by Ruwan Premathilaka with regular guests ACT Leader David Seymour and Deputy Leader Beth Houlbrooke.
Authorised by D Smith, 27 Gillies Ave, Newmarket
Listen now, or Subscribe free:
This week, Ruwan, David and Beth discuss the Government's ban on plastic bags. What will the unintended consequences be? What is ACT's alternative? And Amazon, run by the richest man in the world, is set to film the Lord of the Rings TV show in New Zealand. But taxpayers may need to fork out about $375 million Jeff Bezos' company to make it happen. Is it worth it? Or should that money be put to better uses?
Listen now, or Subscribe free:
ACT's Campaign for Freedom of Expression: https://freespeech.act.org.nz/
ACT New Zealand: https://www.act.org.nz/