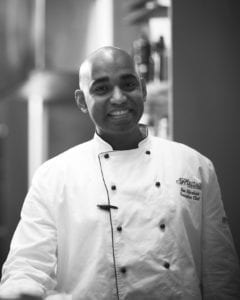 Jinu and I met as co-Judges for a charity cooking event here in Auckland. I immediately warmed to his calm yet enigmatic nature. His knowledge was extraordinary and his efforts to put myself and the contestants at ease was evident. He loves food. He also loves learning and stretching himself.
Originally from New Delhi, India, Jinu is now the Executive Chef at the Heritage Hotel here in Auckland where he has created a plant based, locally focussed menu at the hotel's Hector Restaurant. For him, a non-Vegan and lover of all food, the challenge was exciting. As he himself says ' once you open your eyes to options, it's a whole new world of ingredients and techniques.'
This chat with Jinu, a Dad of two littlies, delved into his philiosophy around his passion for food and his choosing a career path that allows him to shine through his use of good, fresh ingredients and pleasing others by presenting them with unpretentious honest food – with the perfect combination of flavours.
Jinu is the epitome of the melting pot of New Zealand society – where many cultures and nationalities of people make up our cities and countries. His story is one of success and I love his determination to take on challenges as exciting adventures.
To sample some of his signature cuisine you can pop into the Heritage Hotel in Auckland. His vegan dishes are available in the Lobby Cafe and in Hector's Restaurant.
Get the podcast here:
• Download or Listen to Episode 11 directly
• Listen and subscribe via iTunes
• RSS Feed
Podcast: Play in new window | Download
Subscribe: RSS